My Alpha Story
Written by Beverley Willis on May 03, 2017 in blog - No Comments
Print This Post
Is there more to life than this? Got questions about life? Read on as we hear from Tod and Kerry.  They both did Alpha less than a year ago and these are their stories;
Tod
I decided to try Alpha because I felt that I needed to explore my interest in having a faith in my life, having attended church and met some of the people who found strength, reassurance and happiness through their relationship with God.
What I found was a friendly, welcoming and practical exploration of God, the bible and the kind of questions that one asks when deciding whether Christianity is for you. Because the atmosphere is informal it means that you develop friendships and feel safe to ask challenging questions without causing offence, it also helps to share the evenings with other people who are 'rookies' – you don't feel like the only beginner or that the gaps in your knowledge will be embarrassing.
From alpha I learned about faith, the bible and practical ways to develop a relationship with God, I made friendships that enabled me to explore my personal faith further and I found a comfortable place within the church that I could develop. 'Breaking bread' is a lovely way to bring people together, breaking down social barriers and making space for conversation.
I would recommend Alpha at Lowestoft Community Church to anyone seeking to explore their faith, challenge their preconceptions or simply wondering what this God stuff is all about.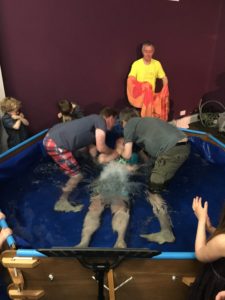 Kerry
I've been coming to church for 10 months now, and from the moment I arrived I have always felt so warmly welcomed and sensed the real love of God's people. Before coming to church I knew very little of Jesus and even less of the bible as I had not experienced a Christian upbringing.
My journey of faith began when I walked into church for the first time in a desperate state due to depression and anxiety which had completely taken over my life. Through prayer and trusting in him, God rescued me from that very dark place and even now my heart overflows with  gratitude for what he has done in my life so far.
For me, one of the biggest impacts on my faith was my experience of the Alpha course. As an analytical person, I was bursting with questions about Christianity. I was able to ask away and explore Christianity openly and freely in a friendly environment where no question was off limits! The topics and talks were targeted at some of those big questions about Christianity and hearing a diverse range of testimonies was very inspiring. I met some great people and learnt so much.
From the person reading this who may be feeling curious or intrigued to know a little more about Christianity, to the person who is bursting with questions (Is there really a God? What is the significance of Jesus? How can I be sure that the bible is an accurate truth? Why do bad things happen? Etc.) I would say go for it and sign up to Alpha! There is no pressure at all to become a Christian and whether you want to sit back and listen intently or express all those questions you have, you have nothing to lose and everything to gain!
I was recently baptised which was amazing. In contrast to before becoming a Christian, I now walk through life content and reassured that I have the Lord to fall on whenever I may need to and that is a wonderful reassurance to have!