Alpha
The Alpha course is open to everyone interested in discovering what Christianity is about. It's a place where people can come and relax, eat, share thoughts and explore the meaning of life.
It is designed primarily for people who aren't churchgoers and is open to anyone who would like to attend.
Why do people attend an Alpha course? Guests come for many different reasons; some want to investigate whether God exists and some have questions that they's like to discuss. Many guests have never been to church and others may have attended church but feel they have never had a personal understanding of the Christian faith.
Here's some feedback from a couple of our Alpha guests:
"Really enjoyed it. Everyone is very welcoming, it's very laid back. Easy to understand and plenty of chances to ask any questions. Food was lovely!"
"Enjoyed the company and talking about personal experiences"
If you have any questions or would like to book in please do contact us by filling in the form below.
If you'd like to hear more then why not listen to one of these real stories.  Three very different men, three very different stories.
Gordon Watson
Dave Bell – Face Facts, Embrace the Truth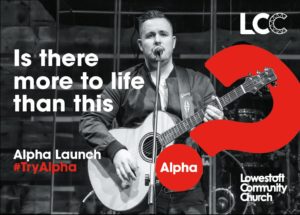 Shane Taylor
Alpha Enquiries