Life Groups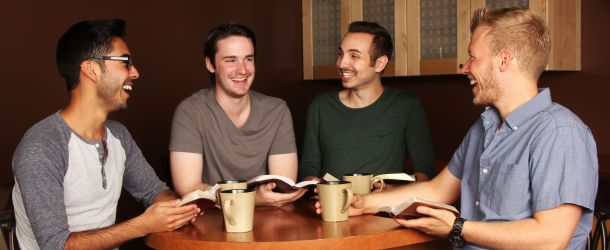 As a church we value highly relationships with one another, while reaching out to our town with the love of Christ.
Life groups provide a context for this by building great friendships and living out the things God is saying to us. There are many groups that meet at different times, both daytime and evenings, across the town. Different groups enjoy socialising together, applying the teaching from Sundays, worship and prayer. These things help us to grow and encourage each other in our own relationship with God.
Anyone can come along and be part of a life group. Below is the menu of Life Groups for the current term
MONDAY
Getting Started with Family History
Group Leader:    Mike Bollinger
A group for those who want to learn how to begin researching your family history. We will go through gathering information on paper, how to begin to research your family on free websites and local records, as well as what you'll find on paid sites. We will also look at how to organize your tree using software or online. Your research may require the purchase of birth, marriage, or death certificates which cost £9.25. Practical time will be given to researching your family. Family research limited mainly to the United Kingdom. The group may not run the full term.
Kingdom Prayer
Group Leader.    Omal Timtey
Simply gathering together to pray for God to move in our lives, church, community, nation and the nations – to see His Kingdom come and His will be done on earth as it is in heaven!
TUESDAY
Tuesday Morning Prayer
Group Leader.    Jenny Clarke
An hour of prayer together on Tuesday mornings for current situations in the world and our lives.
Alpha
Group Leader:  Ben Parish
Alpha is a course for those people who want to explore the foundational topics of Christianity and ask their questions around the subjects of the Christian faith. Meal included!
Alpha Plus
Group Leader:  Ben Parish
Alpha Plus is for people who have done the Alpha Course but want to explore further. You'll join with the Alpha Course attendees for the meal, and then watch a separate talk and discuss your questions over coffee.
Bible Journaling
Group Leader:  Judith Hewis and Bev Jenkins
We will look at journaling, lettering and colouring God's Word. A chance to explore the Bible in a creative way. Hear from God and grow and develop a fresh love for His Word. With laughter and conversation and cake.
Dream Culture – Bringing Dreams to Life
Group Leader.     Bev Willis
The first step to discovering your dreams is to know you have permission to dream. You were designed in the image and likeness of the greatest dreamer in all creation – God. This will be 10 sessions working through the Dream Cultures book by Andy and Janine Mason.
WEDNESDAY
The Bible Course – The Big Picture
Group Leader:    Chris and Jo Kendrew
Do you struggle to understand the Bible when you read it? How to apply the Old Testament to your life today? How all the Bible is put together? This group will follow a video series called "The Bible Course" with each week having sections of teaching followed by discussion. There are also daily readings to prepare for the following week. This group is suitable for anyone who wants to learn more about what the Bible is all about, and what the Bible speaks about Jesus.
THURSDAY
Teens Parenting Course
Group Leader:    Bernard and Hannah Warnes
Topics include meeting your teenager's needs, setting boundaries, building relationships and others. A chance to learn, talk, pray and support each other in family life. Aimed at parents of teenagers or Pre-teens. We would love to hear stories from those who have already brought up their family so if you are interested in coming one week to tell your story we would love to hear from you. We need all the help we can get 🙂
Creative Worship (through Dance)
Group Leader:  Kerri Sweeby
The opportunity to express your worship and interpret music in a way that invites the prophetic and brings glory to Jesus
FRIDAY
Healthy Eating in God's Strength (Friday Mornings)
Group Leader:    Linda Goff and Carol Banks
Healthy Eating is for men and women encouraging one to lose weight and share ideas. Get together and have fun while shedding the pounds.
SUNDAY
Sunday Morning Family Breakfast
Group Leader:  Bev Willis
Join us for a big family breakfast every other Sunday before church.  We're going to have breakfast together, the simple stuff like toast and cereal, and some yummy stuff like pastries, we may even go out one week!  Aside from the food it will be a great and probably slightly crazy time to gather, as a church family, for the children to be a part of the church community, as we get ready for the Sunday morning service.
You can register here online with the form below.