Life Groups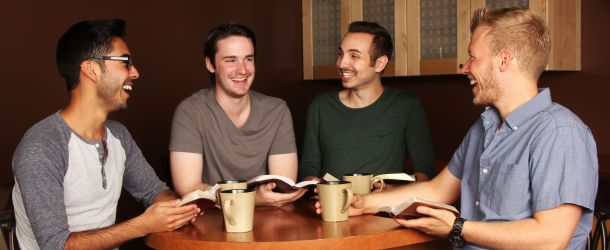 As a church we value highly relationships with one another, while reaching out to our town with the love of Christ.
Life groups provide a context for this by building great friendships and living out the things God is saying to us. There are many groups that meet at different times, both daytime and evenings, across the town. Different groups enjoy socialising together, applying the teaching from Sundays, worship and prayer. These things help us to grow and encourage each other in our own relationship with God.
Anyone can come along and be part of a life group. Below is the menu of Life Groups for the current term
MONDAY
Hear: A Spirit-Filled Life
Group Leader:  Mike Bollinger and Jackie Kinney
Hearing God is part of our spiritual inheritance as Christians. In this group, we are going to take time to learn how to recognize God's voice, and to give time to develop that part of our relationship with God. We will learn how this also flows out of a Spirit-Filled Life of Worship and Prayer.
 Men's Boot Camp From Home
Group Leader:  Justin Kinney
Using the Men's Boot Camp DVD series by John Eldridge, we will journey together in the re-discovery of our identities as men and what that means in our relationship with God, our family and in our day to day lives.
 CAP money course
Group Leader.    Caroline Landles  Tim & Bev Jenkins
The Cap money course will help you successfully navigate your finances giving you the skills to build and live on a budget. If there is too much month left at the end of the money, or you're just not sure what you're spending it on and would like to save more, this will help you take control. The course is DVD and workbook based which we will work through together but there is no requirement to share personal details within the group.
TUESDAY
Alpha
Group Leader:  Ben Parish
Alpha is a course for those people who want to explore the foundational topics of Christianity and ask their questions around the subjects of the Christian faith. Meal included!
Alpha Plus
Group Leader:  Ben Parish
Alpha Plus is for people who have done the Alpha Course but want to explore further. You'll join with the Alpha Course attendees for the meal, and then watch a separate talk and discuss your questions over coffee.
 Hope for Lowestoft
Group Leader:  Tom Oliver
A community effort to bring hope to the people of Lowestoft through random acts of kindness. From cleaning up litter to giving people unexpected compliments, a small act of kindness could make someone's day or even change their life. Let's pray for God to bring hope to Lowestoft through the time we give to those around us.
 WEDNESDAY
Ladies who eat cake (shop bought)
Group Leader:  Jem Oliver
Continuing our group from last term and welcoming any ladies that would like to join us. Since it's the summer term we would hope to get out and about a bit where possible. Come and drink coffee, eat cake and potentially chill. Bring your kids, women who love kids and want to come along and join us to bless mums by entertaining kids a little/having tiny cuddles and joining our chats, everyone is welcome. Drop in when you can and for as long as you can, come and go as you please, as long as you have enough time for a cuppa.
THURSDAY
From Why to Worship (Practical Bible Studies on Habakkuk)
Group Leader:    Omal Timtey
These are practical bible studies to unpack the book of Habakkuk. We will work through systematically to explore the key verses to understand the spiritual pilgrimage for Habakkuk and perhaps for us too. Learn from how Habakkuk moved from place of 'WHY' to the declaration of 'FAITH' and finally 'WORSHIP' and relate that to our lives, to help us deal with lots of questions we have in our own walk with God. There are questions in each chapter to help us relate to principles explained to our own lives and situation. Prayer at the end of each session.
SATURDAY
Tennis (for those that can play)
Group Leader:    Phil and Heather Stoddart
An opportunity to get together to play tennis for those who already know how to play.
WEEKEND
Kayaking Group
Group Leader:    Vince Pointon and Richard Ward
We are hoping to go kayaking alternate weeks, mainly in the North Sea (weather permitting) on either a Friday evening, Saturday or Sunday afternoon. You don't have to be an expert, but you must be up for some fun. We may even have the odd BBQ on the beach too. We would welcome people with kayaks to join us and we also have 3 spare for others to use.